Parking and Traffic Regulations
Parking Regulations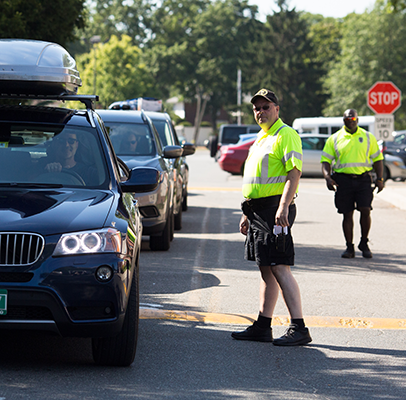 Parking regulations apply to any vehicle using campus-parking facilities, including those of visitors.
Parking is permitted in lined areas only.
Parking is prohibited in fire lanes. The following University roadways are fire lanes:

service road between Levermore and Blodgett Halls
road alongside University Center
service road between Alumnae and Post Halls
roadway between Earle Hall and Science Building
roadway in front of Chapman, Linen, and Eddy Residence Halls
roadway east side of Woodruff Hall.
roadway between Sports Center and Performing Arts Center.

Parking is prohibited within 15 feet of fire hydrants.
Double parking is not permitted.
SPEED LIMIT is 10 MPH campus-wide.
Speeding and reckless driving prohibited.
Parking is prohibited on all grass areas.
» Parking Lots at our Garden City Campus
---
Parking Off Campus
Most streets adjacent the campus have restricted parking. Students who park off campus are cautioned to respect the privacy of the University's neighbors. Students should not litter.
Traffic Regulations
PARKING IS BY PERMIT ONLY. Permits expire on September 30 of each year.
Students, faculty, and staff are required to register annually.
All motor vehicles utilizing University parking facilities must:

be registered with the University
display a current state registration
display a current University parking permit on the left side of the rear bumper

Commercial vehicles are not permitted to park on campus with the exception of vendors servicing the University and vehicles owned by the University.
The University assumes no responsibility for loss or damage to vehicles parked on its property.
Permits are issued to a particular license plate and are not transferable.
---
Tips for parking when space is limited
Arrive early for your classes 
Use the parking areas that tend to have the most available spots:
Consider taking public transportation (Adelphi offers free shuttle service). Schedules are available online and through our AU2GO mobile app.
In an effort to help our environment and improve our air quality, Adelphi University has joined forces with Clean Air New York. You will be notified by email of Air Quality Action Days which will alert the Adelphi community when air quality is predicted to be in the unhealthy range. This will signal people who have any type of breathing difficulties to stay inside as much as possible. The Department of Public Safety and Transportation has also designated 40 parking spots in Parking Field 2 for fuel-efficient vehicles and carpoolers to assist in the effort to cut down on emissions that pollute our environment.