Adelphi Shuttle Buses
Need a lift? The Panther Express has got you covered.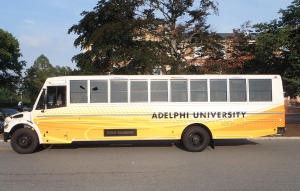 Adelphi University's Panther Express service provides shuttle bus transportation to local train stations, bus stations and shopping destinations.
Shuttle schedules may change if public transportation schedules change. Pick up a printed schedule at the Department of Public Safety and Transportation in Levermore Hall.
---
Panther Express Shuttle Schedule
NEW  » Fall 2017 Shuttle Schedule (effective September 11)
---
 Want to find our shuttles? 
» Panther Tracker (for Mineola, Nassau Blvd. and Garden City Pool routes)
» Learn more about the Panther Tracker and how to get it on your phone.
Pickup and Dropoff Spots

(May vary due to construction on and off campus)

Adelphi University
Bus shelter between Post Hall and Harvey Hall
Nassau Blvd. LIRR Station
South (eastbound) platform
7th Street Garden City
Rear of 7th St. Café, Between Hilton Avenue and Franklin Avenue
Hempstead Tpke at Nassau Blvd
Northwest corner at T-Mobile parking lot
Hempstead Transit Center
North side (opposite LIRR station) on West Columbia Street, Hempstead
Mineola LIRR Station
Fourth Ave 4th Ave & Station Rd. (next to eastbound railroad tracks) where sign reads LIRR Pick-ups and Drop-offs
Allure Mineola (formerly Modera)
140 Old Country Road, North Side Resident Driveway
Roosevelt Field Mall
Macy's (south entrance)

Walmart Shopping Center
West (right) side of Walmart near Living section
Target Department Store
North (right) side. 999 Corporate Drive, Westbury, NY
The Gallery at Westbury Plaza

Near Trader Joe's—900 Old Country Rd, Westbury, NY 11590
Stop & Shop Supermarket
North (left) side. 50 Cherry Valley Avenue, West Hempstead, NY